Slash and his bandmates in Myles Kennedy and the Conspirators get the rag doll treatment in the fun new video for "Driving Rain." The song appears on Living the Dream, which was released via Slash's own label, Snakepit, in partnership with Roadrunner.
In the clip, the band, whose puppet counterparts wear serious (and funny) rock & roll riffing expressions perform on a mountain. Meanwhile, a rag doll couple is fighting. The woman takes off in a jeep with her friend to escape the argument. As they flee down a street, do donuts trailed by fiery smoke and go off-roading to meet the band, the woman's boyfriend is in hot pursuit.
"The idea behind doing an animated video for 'Driving Rain' is mostly due to the dark subject matter of the song influencing directors to come up with very dramatic, dark and sullen regular live action treatments that weren't any fun at all (no offense to those guys)," Slash said in a statement. "So, I wanted to create something that could be tongue-in-cheek and yet still be dark with live-action animation. We're all big fans of Stoopid Buddy and they came up with a great concept and treatment. We love the video and it came out fn' brilliant. FYI, no puppets were harmed during the making of this video."
Slash featuring Myles Kennedy and the Conspirators are currently in the midst of their North American tour. The 21-date run culminates in Los Angeles, California, on October 16th at The Palladium.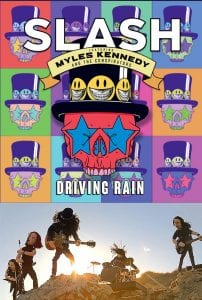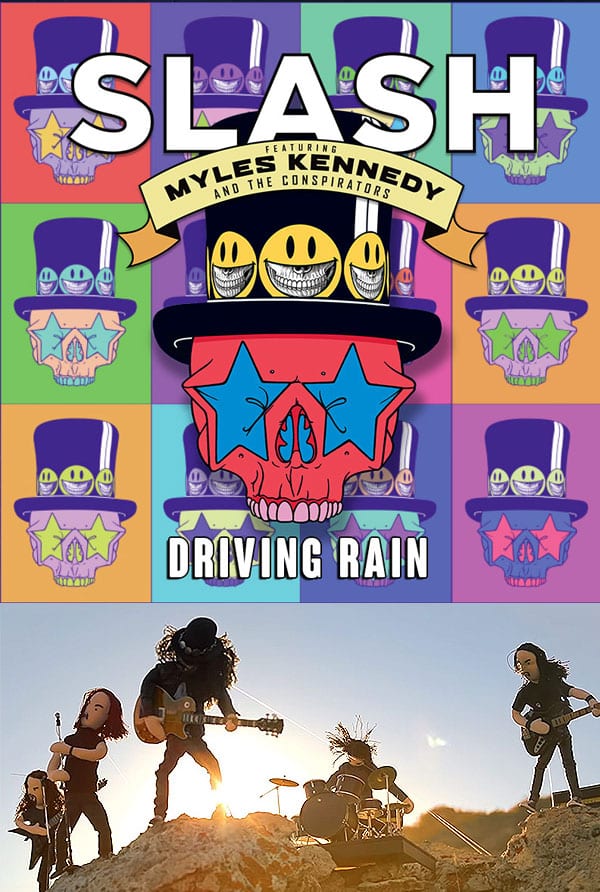 ---