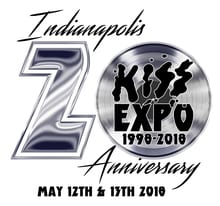 The 2018 INDIANAPOLIS KISS Fan Expo will take place on Saturday May 12th and Sunday May 13th! 9am-10pm both days. Come celebrate our 20th Anniversary in a big way by going to the Mother of All KISS Expos!
Organizers of the Kiss Expo in Indianapolis have confirmed that the band's former guitarist Ace Frehley will appear as a special guest of brothers Bruce Kulick and Bob Kulick in a live show to close the event.
This will mark only the second time the Bruce & Bob Kulick band have performed, following their appearance on last year's Kiss Kruise. Their third show is set for the next Kruise.
In addition, all four members of the group that recorded 1987's Frehley's Comet album – Frehley, drummer Anton Fig, bassist John Regan and guitarist / keyboardist / singer Tod Howarth – will make appearances at the Expo.
The expo takes place on May 12-13, with each day closed by a live performance. Frehley will act as special guest on both nights, with the Saturday event also featuring Kiss drummer Eric Singer, Bob Kulick, and the Kulick band's Brent Fitz and Todd Kerns. Tickets are on sale now.
Saturday's confirmed guests include Singer, Frehley, Bob Kulick, Creatures of the Night and Lick it Up producer Michael James Jackson, Fitz, Kerns, Lydia Criss, Karl Cochran, Robert Fleischman, Roman Fernandez and Bill Starkey. Sunday's roster includes Frehley, Bruce and Bob Kulick, Fig, Regan, Howarth, Brent Fitz , Todd Kerns, Bobby Rock, and Mark Slaughter.
"It's a challenge to play poolside in the middle of the Gulf of Mexico," Bruce Kulick told UCR after the brothers' band made its debut appearance in November. He admitted he was nervous. "There's wind blowing pretty intensely, the floor is always moving, it's not like your usual indoor arena, you're on a moving vessel," he recalled. "It's damp, it's windy, the elements are kinda weird, but that's the thrill of it. We toughed it out."
Kulick noted that all the arguments over the set list and the struggle to find rehearsal time. "The reaction has been tremendous," he said. "It couldn't have been a better opportunity to perform those songs — on that night, on that ship, with that crowd, it's a gig I'll never forget. … It meant a lot to both my brother and I, the fact that we pulled it off so well and that it was so well received. I'm not saying that I don't want it to happen again, but if it never could happen again like that, I'm okay because I did something super special."
---